90 durometer plastic PVC concrete chamfer material is excellent in the long lines and straight uses and can also be used in a majority of large radius curved and round applications.


The main function of the PVC round concrete chamfer is to turn the concrete right angle into the arc angle. Before the concrete pouring, the corner line can be fixed at the internal corner of the formwork, which can be fixed with the special row nails for decoration. PVC circular arc chamfering line, R25 is circular arc radius 25mm angle line, used for main transformer foundation and other large foundation;
PVC circular arc chamfer line R20 is a 20 mm circular arc radius corner line, which is used for the general foundation. The concrete arc angle line is mainly used for concrete products. When the mirror concrete is used for fillet, the outer part is fixed with wood formwork. Beam, column, the upper side of cable trench, are widely applied in thermal power plants or high-pressure power stations in infrastructure construction.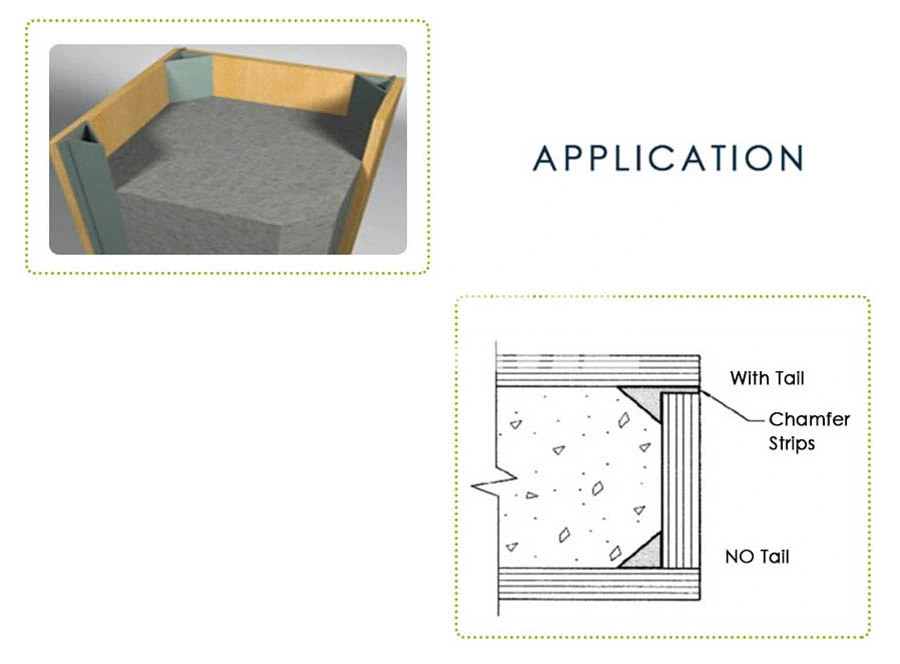 PVC concrete Chamfer Product advantages
1. Stable quality, excellent physical performance, can be used repeatedly.
2.Bright color, high gloss.
3. It is easy to process the finished products with high yield.
4. The surface of the product is smooth, the formwork removal is convenient, and the fillet is beautiful and generous.
5. After composition, it can save cost compared with metal material and has the advantage of high quality and low price.
PVC concrete chamfer popular size:
Triangle and Trapezoidal PVC Chamfer

A
L
W
PVC-20x20A
20
20
PVC-25x25A
25
25
PVC-30x30A
30
30
PVC-40x40A
40
40
B
L
W
PVC-15x15B
15
15
PVC-20x20B
20
20
PVC-25x25B
25
25
PVC-30x30B
30
30
PVC-40x40B
40
40
PVC-50x50B
50
50
PVC-70x70B
70
70
PVC-100x100B
100
100
C
L
W
H
PVC-15x15x20C
15
15
20
PVC-18x18x25C
18
18
25
PVC-20x20x30C
20
20
30
PVC-25x25x35C
25
25
35
PVC-35x35x50C
35
35
50
Besides PVC concrete chamfer, we also offer rubber magnetic chamfer and steel magnetic chamfer.


Magnetic chamfer strip is a new type of concrete chamfer. It is magnetic shuttering solutions for the precast concrete industry! They are designed to create beveled edges on corners and faces on concrete wall panels and small concrete items.
Features for magnetic chamfer strip as below:
1. Easy to operate, quick to position, remove and clean, quick and accurate positioning exact beveled chamfers on the construction steel formwork table, and shorten the production timeline.
2. Securely, no screws, bolts or welding are necessary, therefore preserving surface finish to increase the lifetime
3.Reusable and durable, more than 3 years. Save money
4. Most sizes available, no tooling cost are required.
5.Standard sizes in stock and 1-day delivery
6.Custom-made solutions available, 50%-50% burden the tooling costs.
There is 2 popular material for rubber magnetic chamfer:
Made of anisotropic rubber magnet strip, Compared with steel magnetic chamfer, rubber magnetic chamfer is very flexible, light and cost-effective.
Rubber Magnetic chamfer Popular Size:
Triangle and Trapezoidal Rubber Magnet Chamfer
ITEM NO (Triangle)
L
W
H
MC-5x5
5
5
7
MC-8x8
8
8
11
MC-10x10
10
10
14
MC-15x15
15
15
21
MC-20x20
20
20
28
ITEM NO (Trapezoidal)
T
t
H
TMC-40x20x10
40
20
10
STMC-40x20x10
60
40
20
STMC-40x20x10
140
120
20
There are two sorts of steel magnetic chamfer, trapezoid magnet chamfer and Triangle Magnet Chamfer, Trapezoid Magnetic Chamfer, also known as trapezoid-shaped Magnetic Steel Chamfer or magnet steel chamfer, is a steel strip that configured with strong neodymium magnets. It has strong magnetic forces that usually been used on metal concrete formworks.
Steel magnetic chamfer made of high-quality cold-rolled steel Q235B and embedded strong neodymium magnets, whose strong magnetic field is integrated at the groove of the chamfer, in order to ensure fast and accurate placement of the chamfer in steel formwork without any slipping or sliding, more widespread use in the vibrating table.
Steel Magnetic Chamfer Popular Size:
Triangle and Magnet Chamfer made of steel


ITEM NO (Triangle)
L
W
H
Length of Magnet
Length(mm)
Magnet
SMC-10x10A
10
10
14
50% / 100%
3000
Single
SMC-10x10B
10
10
14
50% / 100%
3000
Double
SMC-10x10C
10
10
14
50% / 100%
3000
Bottom
SMC-15x15A
15
15
21
50% / 100%
3000
Single
SMC-15x15B
15
15
21
50% / 100%
3000
Double
SMC-15x15C
15
15
21
50% / 100%
3000
Bottom
SMC-20x20A
20
20
28
50% / 100%
3000
Single
SMC-20x20B
20
20
28
50% / 100%
3000
Double
SMC-20x20C
20
20
28
50% / 100%
3000
Double
SMC-25x25A
25
25
35
50% / 100%
3000
Single


ITEM NO (Trapezoidal)
T
t
H
Length of Magnet
Length(mm)
Magnet
TSMC-16x12x10
16
12
10
50% / 100%
3000
Double
TSMC-20x10x5
20
10
5
50% / 100%
3000
Double
TSMC-20x10x10
20
10
10
50% / 100%
3000
Single