1. Product Description
ID-101 PU FOAM Spray

The expanding PU Foam can be used for a wide range of building applications. It is very good for filling and sealing with excellent mounting capacities, high thermal and acoustical insulation. Its harden saface can be painted,and the temperature-resistance is from -40°C to 90 °C.
it is a high quality one-component polyurethane foam. It can be adhere to all building materials and applied to insulating and filling of larger seams, joints, cracks such as gaps between walls, windows and doors, unreachable areas around pipes, etc. It has good performances in anti-freezing, anti-moisture, noise-resistant and heat -insulation.


2. USE
It is made of high quality materials,it has a large expansion capacity,and can be hardened within air moisture. It is fitted with a plastic adaptor head for use with a foam application gun or a straw.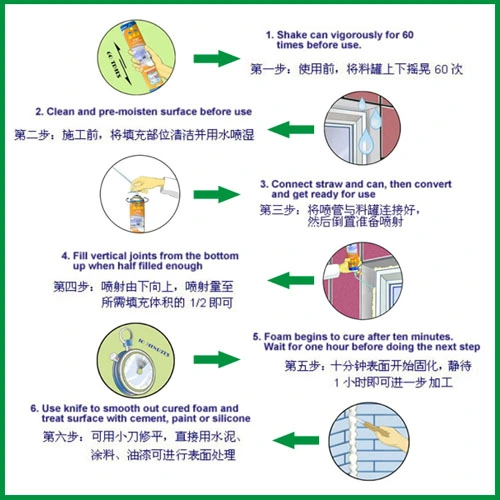 3. APPLICATIONS AREAS
Installing, fixing and insulating of door and window frames.
Filling gaps, joint, openings and cavities.
Connecting of insulation materials and roof construction.
Bonding and mounting.
Insulating the electrical outlets and water pipes.
Heat preservation, cold and sound insulation.
Packaging purpose, wrap the precious & fragile commodity, shake-proof and anti-pressure.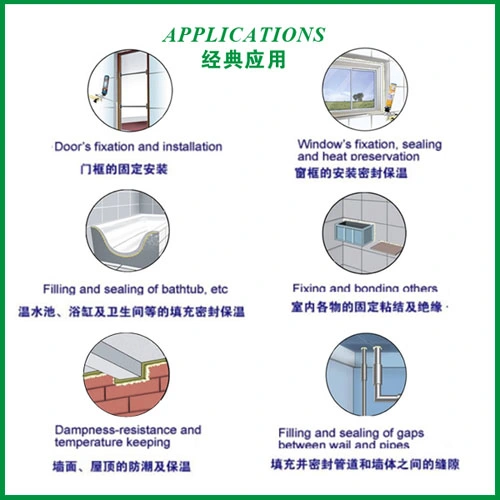 Good adhesion to a wide variety of surfaces such as UPVC, masonry, brick, block work, glass, steel, aluminum, timber and other substrates (except PP, PE and Teflon).
Good filling capacities.
Application temperature between+ 5°c to +35°c.
Optimal application temperature between +18°c to +25°c.
It contains CFC-free propellants which are harmless to the ozone layer.

Tack-free Time: 4~10 (min)
Cutting Time:1~1.5 (+25°C)
Full Dry Time: <18(hour)
Yeild (L)(900g/750ml):30~35
Specific Gravity:18~25kg/m³

5. Factory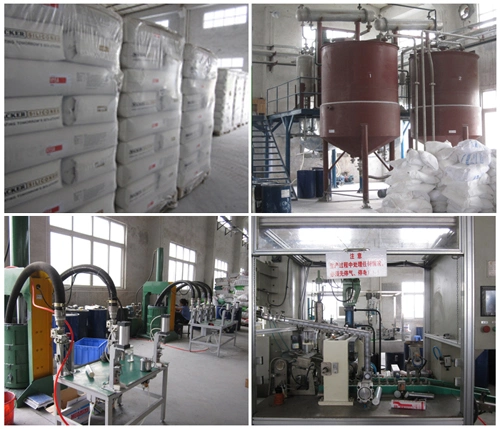 6. Sales Team

We offer good quality, good price, and good service.
Our competitive edge over other suppliers is that we offer solutions rather than supplying goods and services. We provide an excellent combination between prices, quality & responsiveness.

7. OEM Available

We have helped many customers build up their good brand with our pu foam.

8. Advantages

Fast filling: Gap filling by king join's foam sealant is convenient, easy, efficient, and require less labor.

High filling degree: After polyurethane foam is ejected, its volume increases rapidly, filling the hole to its extreme depth and ensuring high filling degree.

Good cohesive force: polyurethane foam can tightly adhere to cement mortar and PVC plate, ensuring that the wind pressure to the window frame is evenly distributed among the four walls of the opening, instead of being withstood exclusively by spanker bolts on

No side-effect: When filling and foaming, excessive foam will flow out and it never deform the window frame.

High sealing performance: Ultimately, polyurethane foam will constitute a half rigid closed call material that blocks air flow, insulates sound waves, and resists shock.

Easiness in finishing: As the foam cures, the protruding part can be cut and trimmed by a cutter easily.

Surface painting: As the foam cures, brushing the surface with coatings and emulsion paints can prevent aging due to exposure to ultraviolet.

Long Service life: Properly painted open-air PU foam will not be prone to aging, giving a service life up 50 years.

Wide applicability: Curd foam can put up with temperature -30-1000C, with resistance against solvent acid.

Environment friendliness & energy conservation: CFC free foam does not harm the atmospheric ozone layer. Besides, the high cured foam causes no hazards to human and the high sealing performance ensures reduced loss of energy.

No corrosion: The foam has no corrosive effect on the window frame material.


| | | | |
| --- | --- | --- | --- |
| can size | package | carton size | Gross weight |
| 750ml | 12pcs/ctn; 1200 cartons/20'FCL | 275*225*355 | 900g |
| 500ml | 12pcs/ctn; 2075 cartons/20'FCL | 275*225*295 | 500g |
| 300ml | 12pcs/ctn; 2500 cartons/20'FCL | 275*205*205 | 300g |