Cuztomized Model is the model for export onl

Basic Introduction
The basis of a low-cost solution for potable water, water heating & hydro-pneumatic well applications. Water does not flow through this vessel. The Dezhi Customized Water range is fitted with a bladder, which can be replaced from 36 liters on, and is ideal for use in water systems with higher corrosion resistance requirements, as suitable for brine circuits in heat pump systems.
Dezhi Water Series, CE approved bladder expansion vessel for mains water supply systems fire extinguishing and process water systems). Approval according to EC Pressure Equipment Directive 2014/68/EU.
Replaceable bladder according to DIN EN 13831
All vessel parts in contact with water are coated against corrosion
Durable external powder coating finish
Vessels stand vertical with profile steel construction on feet
Vessels from diam.1000ltr with pressure gauge integrated in the gas compartment
Technical Details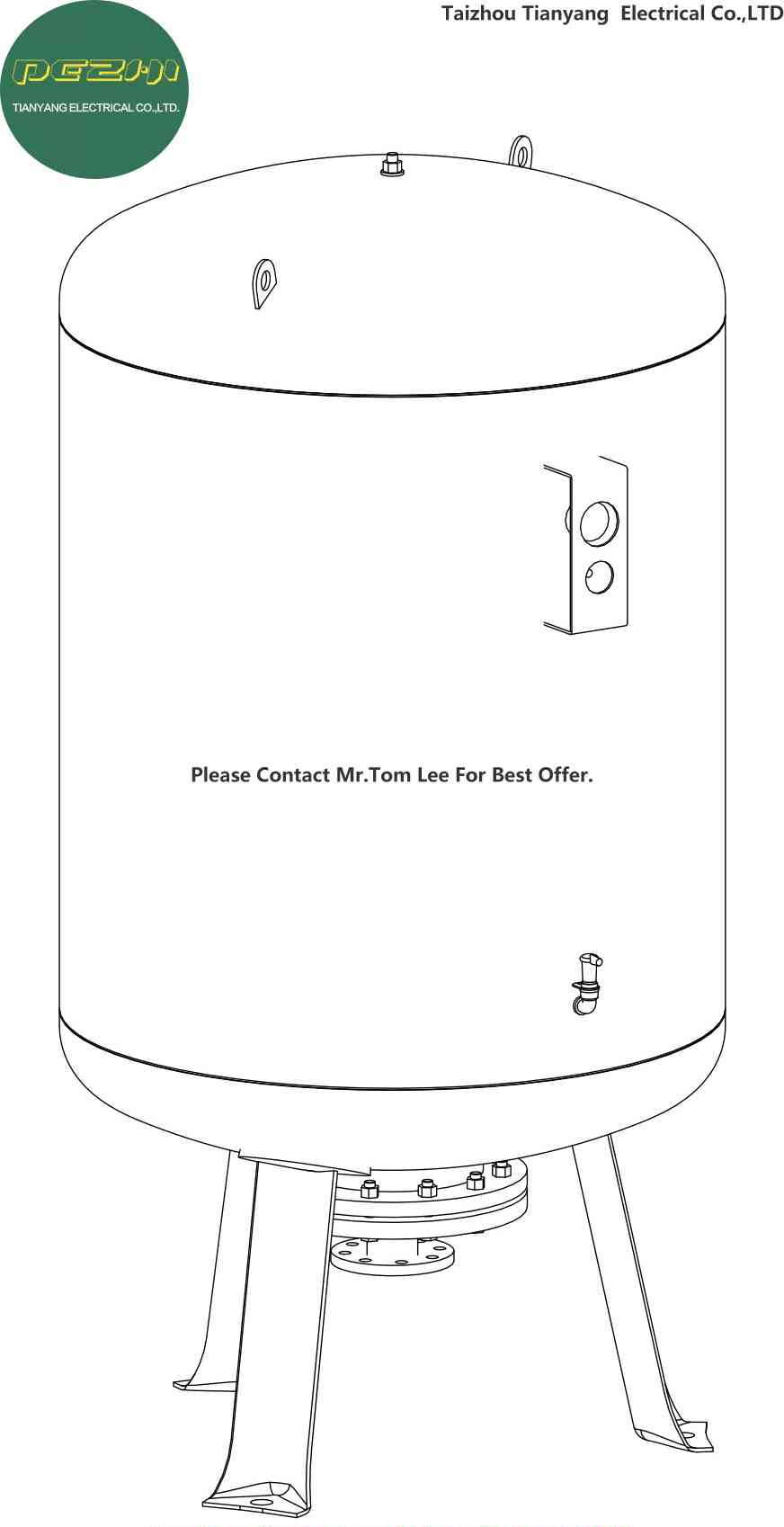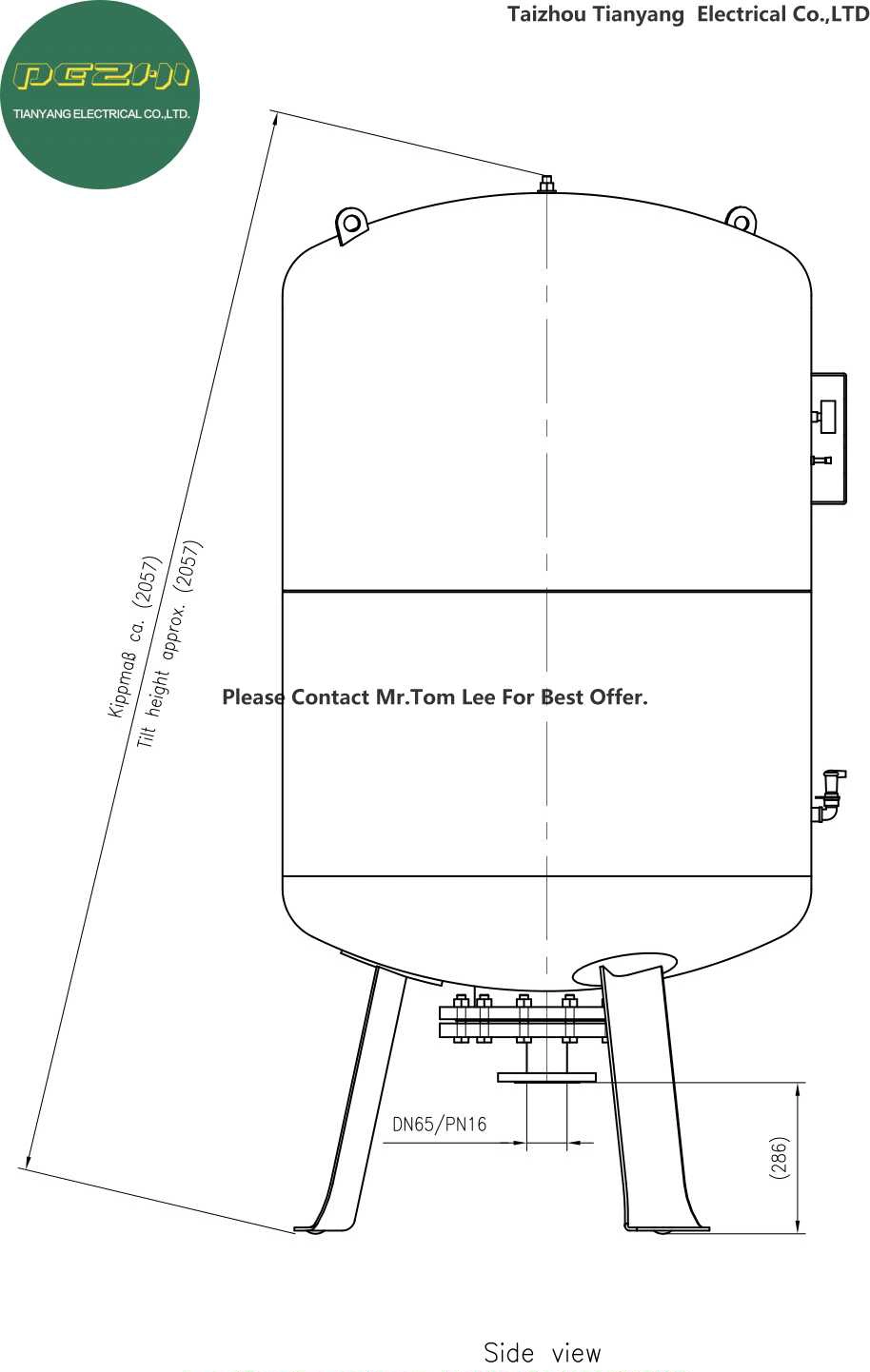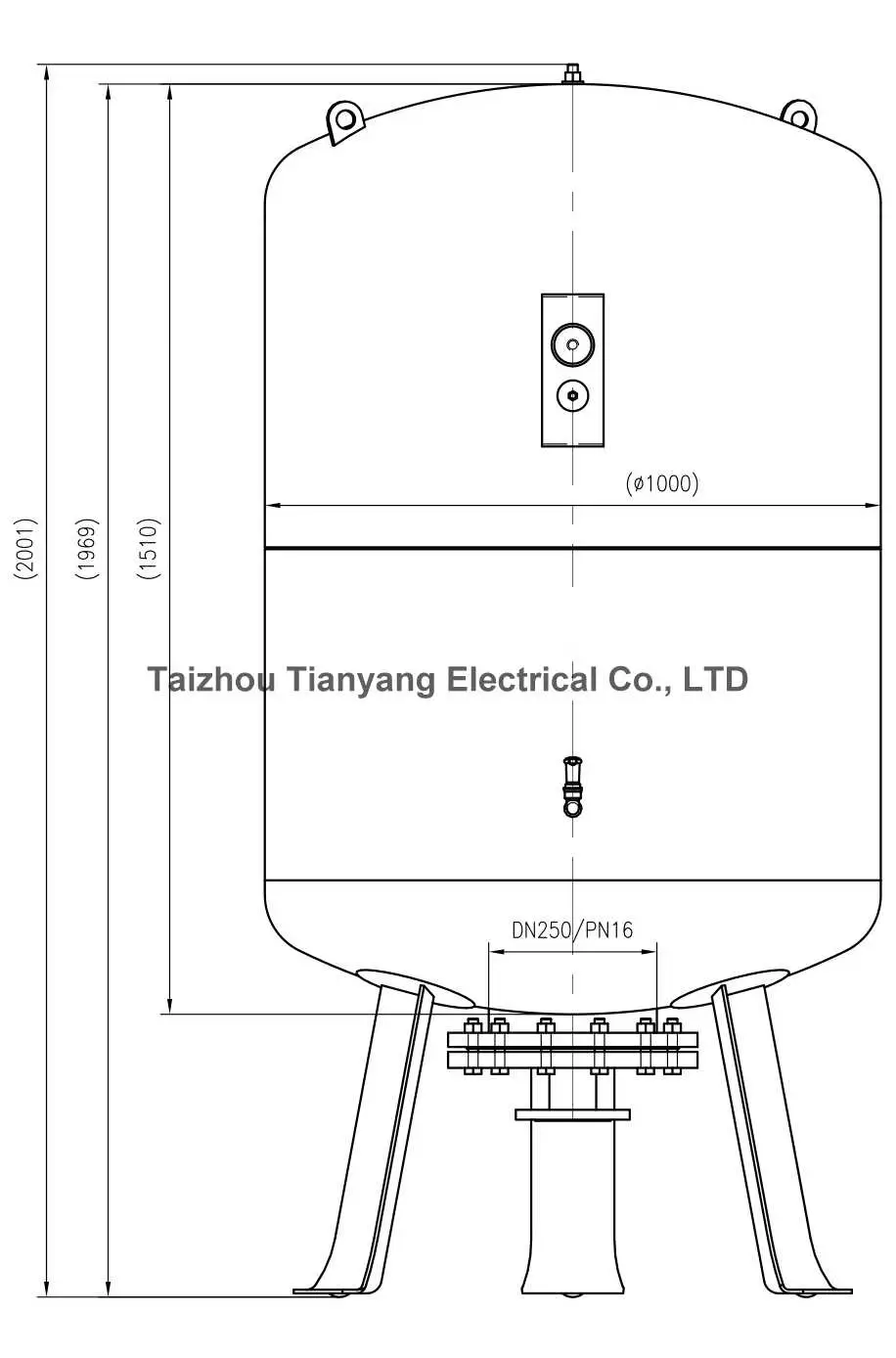 Company profile
Taizhou Tianyang Electrical co., LTD. Is located in Shangma industrial Zone, Shitang Town, WenlingCity, Zhejiang rovince, covering an area of 15, 000 square meters. Our Company has over 30 years experience in mold design and exploition. "DEZHI"and "AQUALEADER" are our proprietary brand of our company. We have produced pressure tank for more than 20 years. Available volumes range from 0.15 to 1500 liters. and working pressure from 4 bar to 25bar. Our products are applied to pump systems. Our products are exported to numerous overseas clients. We can custom design and manufacture products according to client-supplied requirements.
We adhere to the business philosphy"Credibility, Quality and service", our scientific management is based on the domestic market, but facing to the world. Warmly welcome customers both domestic and from abroad. We sincerely hope to cooperate and develop together to create a better future.
Taizhou Tianyang Electrical Co., Ltd. Is always your most loyal partner.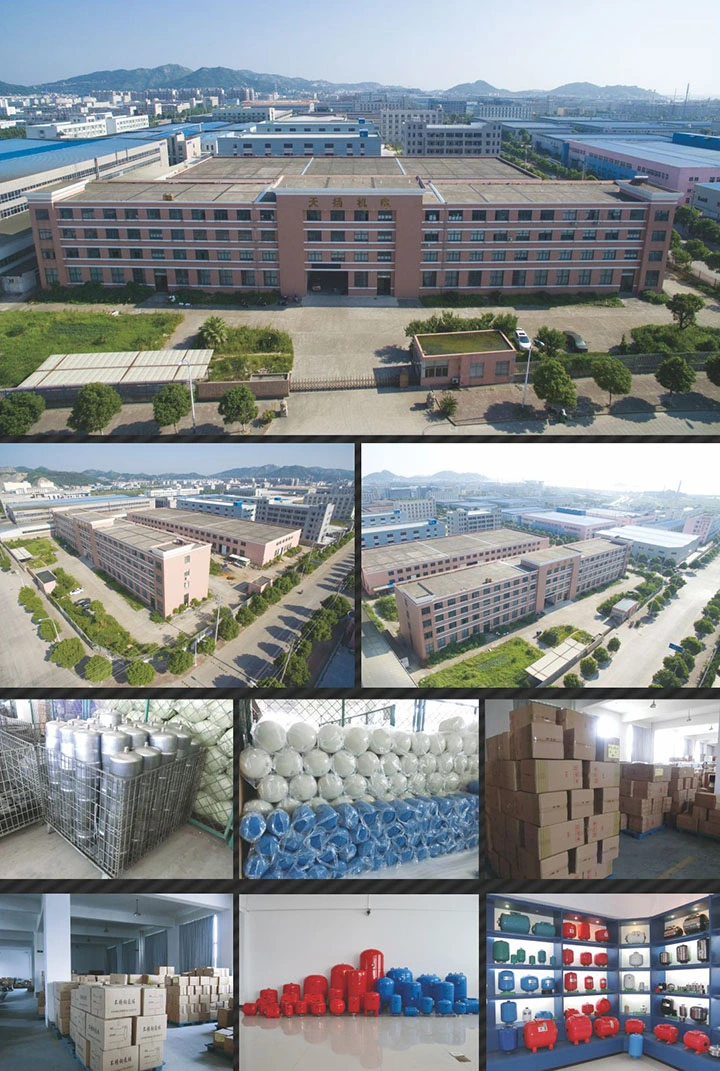 I would like to take this opportunity to introduce our company to you. I am contacting you on behalf of
Taizhou Tianyang Electrical Co., LTD
.
We are the factory from China for making Pressure Tanks for Fire Protection, Residential Water and Irrigation, Sport Turf and Landscape Irrigation, Agriculture and Horticulture Irrigation, Water Filtration, Treatment & Recycle, Solar and Stock Water System, Rain Water Harvesting, Pump Systems. Based on ISO quality management system, we have obtained CE, KC, ISO 9001, ISO14001, OHSAS 18001, SGS, Water Mark, and Wras Certificates for our company & our Pressure Tanks. Welcome to visit
Taizhou Tianyang Electrical Co., LTD
when it is more convenient for you.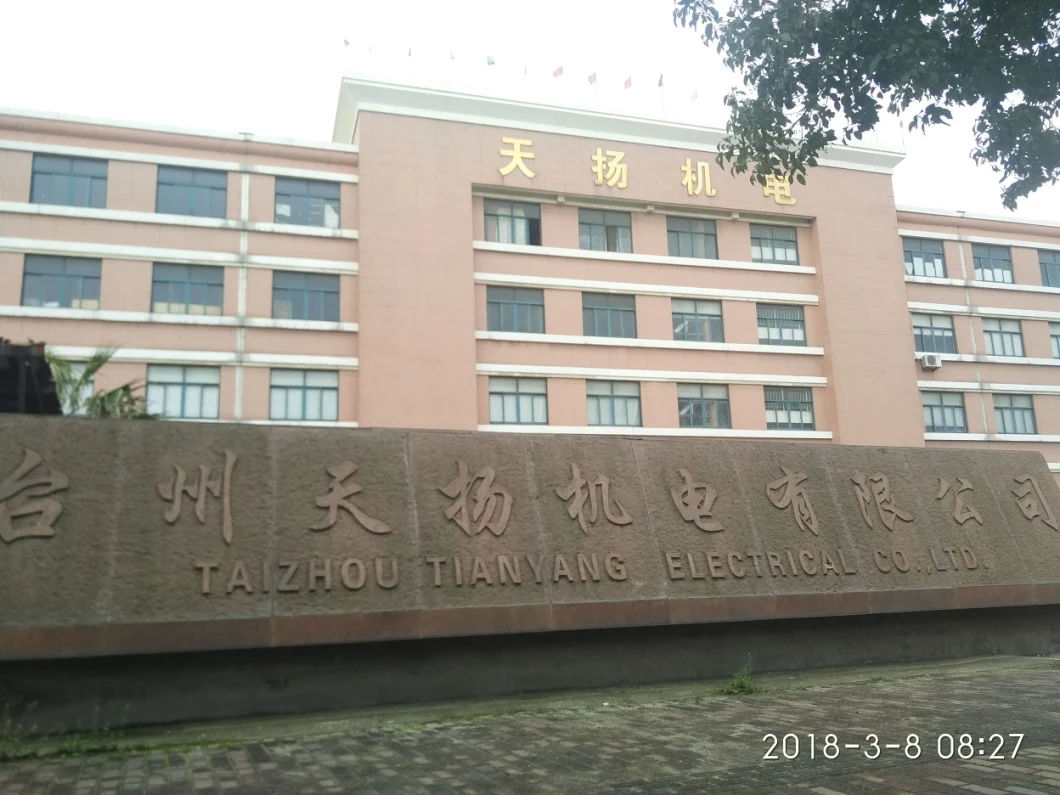 Basic Introduction
The pressure vessel is designed to provide a storage facility and pressure reservoir for water at temperatures up to 99ºC. Common uses are in water booster sets, heating pressurisation and fill sets. The vessel incorporates a replaceable Butyl diaphragm mounted in a mild steel shell. This method of construction eliminates any contact between the stored water and the steel shell of the vessel, and is therefore suitable for use with potable water. All units up to and including 25 litre sizes are suitable for a working pressure of 8 bar, larger vessels 10 bar, (except 1000LV)
For Water-Dezhi Series
Interchangeable membrane pressure tanks.

Membranes suitable for drinking water and can be installed to any type of pump.

WRc approved and built to 97/23/ECTechnical Parameter
Model
Tank Volume
Maxi Working Pressure
Diameter
Height
Connector
Package
(Paper Box)
Export
Packing Size
x
Liter
Bar
mm
mm
Inch
cm
Non-fumigation wooden case/Or Pallet
TY-04-5L
5
10
160
300
1
17x17x31
TY-04-8L
8
10
200
340
1
20x20x34
TY-04-12L
12
10
270
350
1
27x27x35
TY-04-19L
19
10
270
410
1
27x27x41
TY-04-24L
24
10
270
460
1
27x27x46
TY-06-36L
36
10
350
560
1
35x35x56
TY-06-50L
50
10
350
830
1
35x35x83
TY-06-60L
60
10
450
750
1
45x45x75
TY-06-80L
80
10
450
890
1
45x45x89
TY-06-100L
100
10
450
940
1
45x45x94
TY-06-150L
150
10
450
1100
1
45x45x110
TY-07-180L
180
10
560
1000
1
56x56x100
TY-07-200L
200
10
650
970
1
65x65x97
TY-07-300L
300
10
720
1260
1
72x72x126
TY-07-500L
500
10
750
1500
1
75x75x150
TY-07-750L
750
10
750
1800
1
75x75x180
TY-07-1000L
1000
10
1000
1800
1
100x100x180
TY-07-1500L
1500
10
1100
2000
1
110x110x200
TY-07-2000L
Please refer to customized Model Or Contact Mr.Tom Lee (Export Models Only)
TY-08-8L
8
10
240
330
1
25x25x34
TY-08-12L
12
10
270
340
1
29.5x29.5x35
TY-08-19L
19
10
410
290
1
29.5x29.5x41
TY-08-24L
24
10
460
290
1
29.5x29.5x46
TY-08-36L
36
10
380
490
1
38x38x50
TY-08-50L
50
10
380
560
1
38x38x57
TY-08-60L
60
10
480
490
1
48x48x50
TY-08-80L
80
10
480
630
1
48x48x64
TY-08-100L
100
10
480
720
1
48x48x73
TY-08-150L
Please refer to customized Model Or Contact Mr.Tom Lee (Export Models Only)
TY-08-200L
TY-08-250L
TY-08-300L
TY-08-400L
TY-08-500L
TY-08-600L
TY-08-750L
TY-08-1000L
TY-08-1500L
Regarding Installtion
The vessel is supplied pre-charged with air, but this pressure may require adjustment to suit the site conditions. This adjustment must be made with the vessel isolated from the system, and before filling with water. Air may be vented from, or pumped into, a patent valve which will be found under a black plastic screw-off cover on the shell (sizes up to and including 500 litre) or on a side mounted flange (750 and larger). It will be noted that vessels of 60 litre capacity or larger are manufactured with connections at either end of the vessel shell. The vessel should be mounted so that the system connection is made at the lowest possible point, to facilitate on-site maintenance. The other connection may be fitted either with a air bleed valve, or alternatively with a blanking plug. All pressure vessels should be installed with an isolating valve and drain cock.
Periodic Maintenance
The only maintenance required on this equipment is a periodic check on the air cushion pressure. It is necessary to isolate the vessel from the system, and to drain all water from the tank before making this measurement with a standard tyre pressure gauge from the valve.
Maintaince free models are also available,Please refer to customized Model Or Contact Mr.Tom Lee (Export Models Only)
FAQ Details:
1. Q: What is your MOQ of this item?
A: We are a factory, have stock. 1PCS is ok!
2. Q: What is the delivery time?
A: 7-25 days after receiving orginal L/C or deposit by TT.
3. Q: Is it all right to make customer's own brand name?
A: Yes we supply OEM service. Please send us a authorization doc.
4. Q: Where is your Loading Port?
A: Ningbo, Zhejiang, China.
5. Q: What are your payment terms? For Bulk Quantity Purchase
A: 30% deposit and balance T/T against copy of Bill of Lading or L/C at sight.
For Samll amount Trial Order, Please arrange the full payment
6. Q: What is your company's available production capacity?
A: 50000~60000 pieces of Pressure Tank per month.
Welcome To Visit Us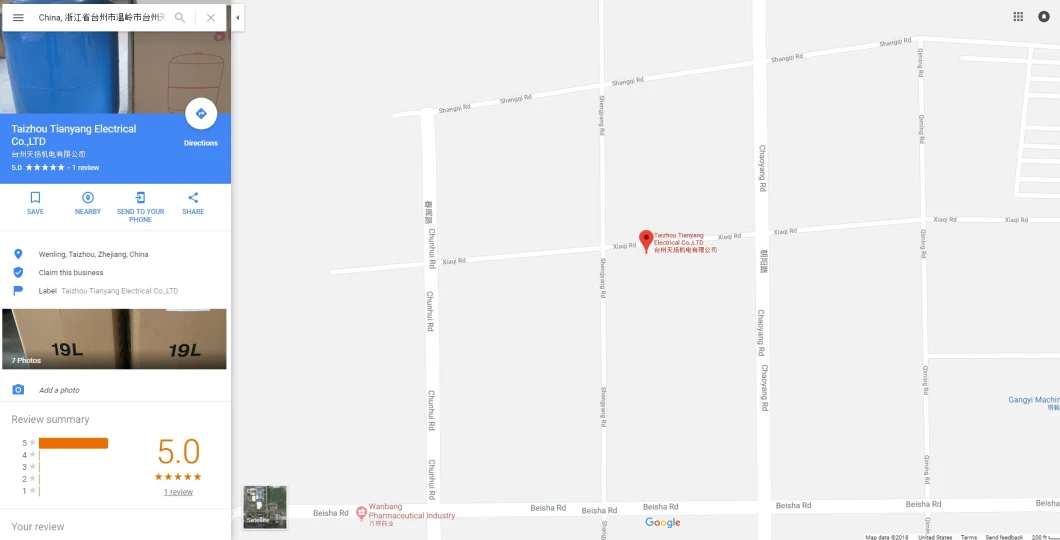 Please do not hesitate to contact me if you have any questions.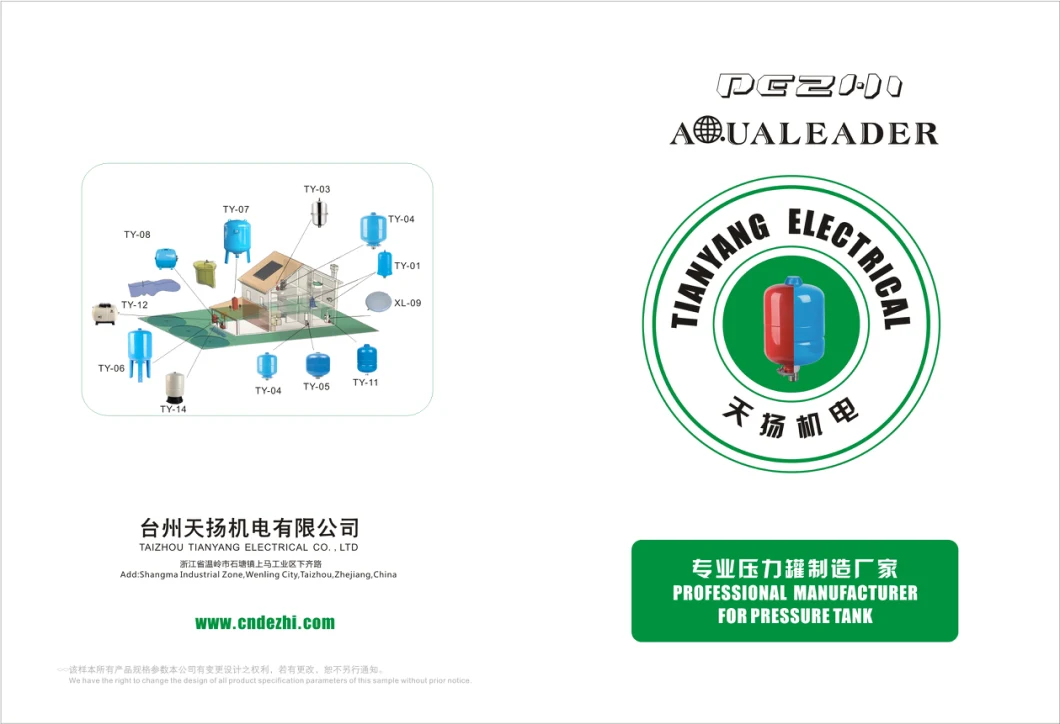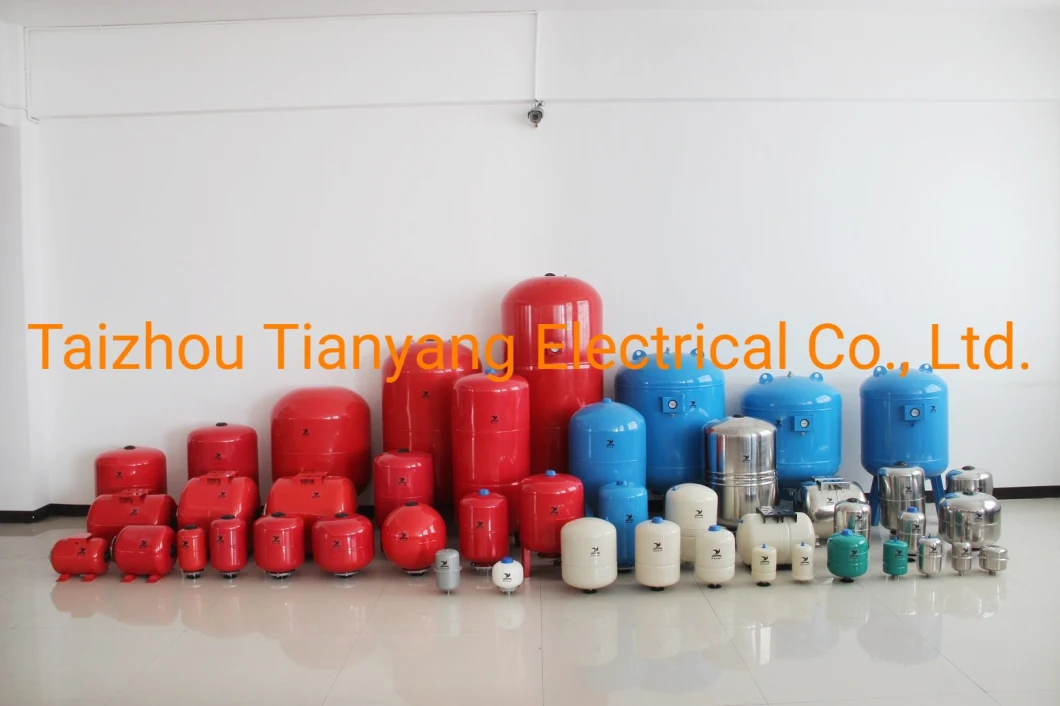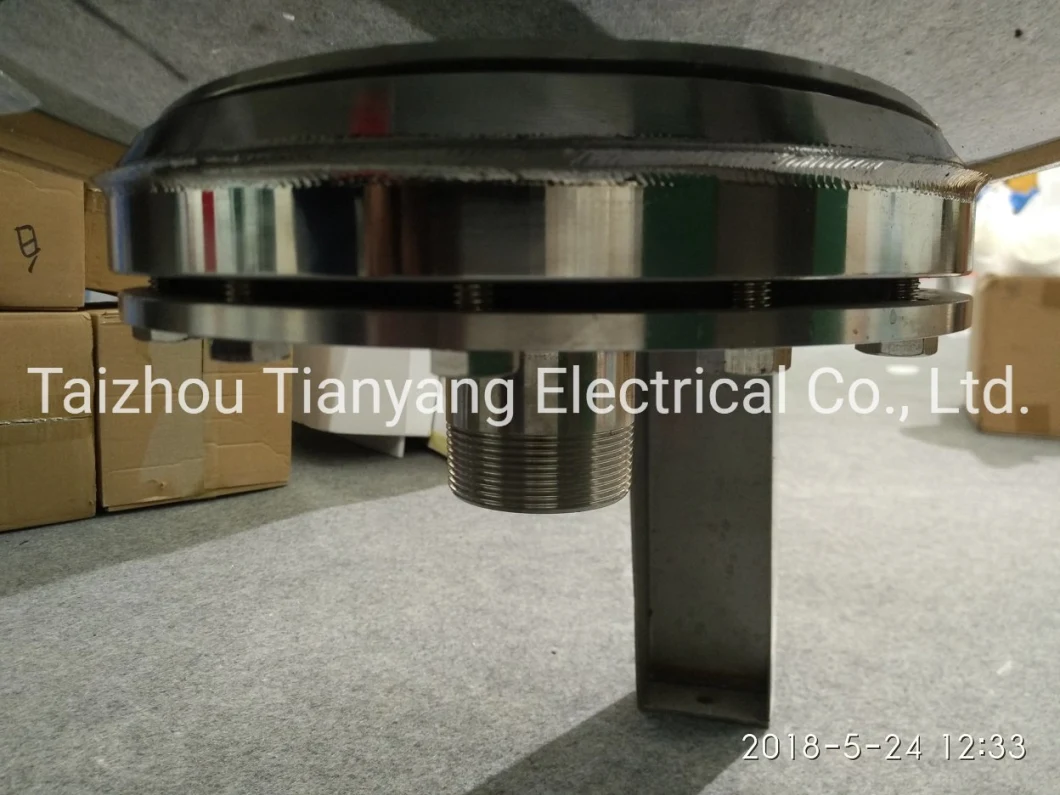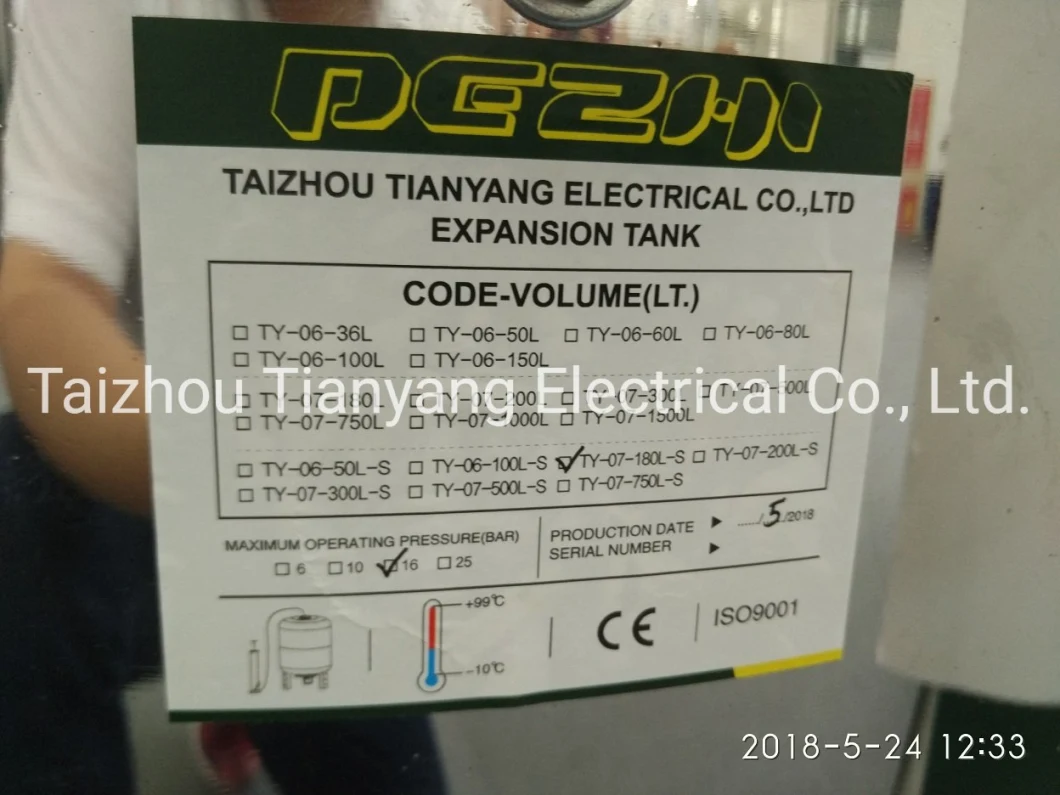 Yours Sincerely
Tom Lee
-----------------------------------------------------------Tom Lee Business Development Manager
Taizhou Tianyang Electrical Co., LTD
Ph: +86-21-57813120 Fax: +86-576-86818392www. cndezhi. com